To Contact The Bike Bucket/Sellwood Designs
Local delivery for direct orders available.
Call Tim at 503-580-8262 or email sellwooddesigns@gmail.com



The Standard A
ssembled Bik

e Bucket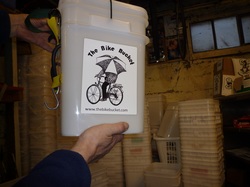 The Standard Bucket! $30.00 One works great; two doubles your capacity. Order them online or find a local shop that carries them. Here at Sellwood Designs, we strive to keep the functionality high and the price low! The standard Bike Bucket includes a tether strap with a snap to keep the lid from being lost. The bucket also includes a small shock cord on the top to hold the lid in place without having to "hard seal" the lid down. The bucket comes with mounting instructions. In order to use the bucket, one needs a standard rack or basket already mounted on the bike. Note: Shipping is $9.00 for the first bucket, $6.00 for each additional one.

---
Order one bucket

Order two buckets

The Bike Bucket kit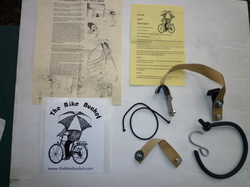 The Bike Bucket Kit! $15.00 This kit is all you need for building your own bucket! (except for the bucket) Ideal for the Do it Yourself folks with moderate skill and a few tools. It definitely saves money on shipping and is a great family project that can provide real satisfaction and use upon completion! Buckets can be found in a variety of places, such as kitty litter, detergent, and used food grade buckets. The buckets need to be square or rectangular. Round buckets will not really work. Note: The kits do not include the snap strap that keeps the lid tethered to the bucket with the built in snap that are included in our in house built buckets. Shipping is $6.00 for the first kit, $2.00 per each additional kit.

---
Order one bucket kit

Order two bucket kits

A note on the odd configuration for ordering

In order to accurately reflect shipping costs, I have made these four buttons, which seems a little awkward but is necessary to show the dramatic savings of ordering two as opposed to one item.